Peace & tranquillity resting in beautiful countryside.
Tarn Moor Memorial Woodland is a natural woodland burial site situated in beautiful countryside on the outskirts of Skipton, the 'gateway' to the Yorkshire Dales National Park. The site opened in November 2002.
'When the sun sets on a life, be it human or animal, you DO have a choice on what happens to the mortal remains; make yours now and enjoy peace of mind.'
The Concept of Woodland Burial.
With growing pressure on the environment, it is not surprising that the idea of creating a lasting natural memorial by developing new woodland burial sites has grown in the UK to around 200 such sites.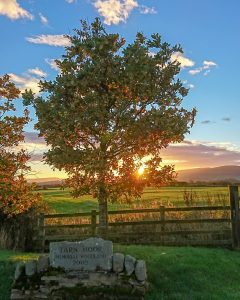 Through our own death, we can give back to nature, something to be enjoyed for generations to come – A living memorial. There is also satisfaction through the knowledge that contribution to the formation and preservation of nature and our beautiful woodland, will in turn become a rich and diverse self-sustaining wild life habitat.
The first green burial ground was developed in 1994 at Carlisle, adjacent to the existing cemetery and is run by Carlisle City Council. Cemeteries and churchyards, including Craven, are filling to capacity, making the woodland burial a very practical option, affording many choices.
In an endeavour to keep the habitat as natural as possible there is no physical identification at the site of burial, but accurate plotting and recording will be undertaken allowing current and future generations to locate the place of burial. There will be no headstones, vases or flowers at the graveside. Double graves will be side by side, to avoid damaging any existing root growth.
In effect the woodland as a whole is the living memorial.
About us and what we offer.
Land designated for the creation of Tarn Moor Memorial Woodland forms part of the Tarn Moor Estate, a charity with a portfolio of land and property, income from which is used to benefit the people of Skipton.
The 10 acre area of land is situated to the east of Grassington Road (B6265), adjacent to the Craven Heifer Country Inn. The elevation and location gives long reaching panoramic views over the adjoining countryside.
The woodland is available for all religious and non-religious groups. We do not reserve areas for any specific group. We have made provision for people and a separate pet area.
With regard to burial surround, or burial preparation, we adhere to conservation principles. It is preferred that burials take place in a biodegradable coffin, shroud or other acceptable container. Standard chipboard coffins or homemade coffins are also acceptable. Account will be taken of any request directed through a funeral director or to the Burials Coordinator which will be dealt with  sympathetically. Cremated remains can also be buried. An attractive meadow area is available for the scattering of cremated remains. An area adjacent to the Woodland is set-aside for those people who require a physical memorial. Footpaths, seating and open glade areas give a variety of options for family gatherings or for quiet contemplation.
The burial ground's managers are members of the Association of Natural Burial Grounds, who have a strict code of conduct, which will be adhered to. The Association has produced the Natural Death Handbook, which gives advice on many issues, including woodland burial grounds, advance funeral wishes and bereavement. We are also members of The Confederation of Burial Authorities.
See our Burial Ground Privacy Policy here.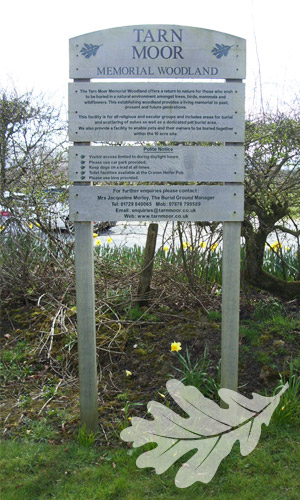 You are assured of confidentiality, dignity, respect & sympathy.